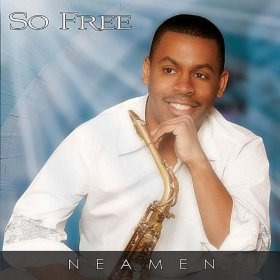 Neamen Lyles – So Free
Neamen's debut album "So Free" introduces a new voice to smooth jazz, demonstrating a remarkable freshness and maturity. Produced by Jay Soto, The CD offers ten tracks conveying a wide range of moods and musical sentiments with a confident feel from start to finish. Together Lyles and Soto have assembled a top-flight cast of contributors for this effort, all of whom give the album a sense of musical prowess seldom heard in a debut release.
Brian Simpson and Jeff Lorber provide nuanced keyboard tracks; Mel Brown and Ray Beindeau lay down electric bass lines; and Freddie Fox provides confident rhythm and solo guitar. Other contributors include: Anthony Morra and Rayford Griffin (drums), Darren Rahn (alto and tenor sax), Jason Rahn (trumpet & flugelhorn) and Michael Broening (B3 synth). David Lancette and Jodi Light also provide smooth vocals. With a great cast of contributors, "So Free" proves to establish Neamen Lyles as a new voice in the definition of smooth.