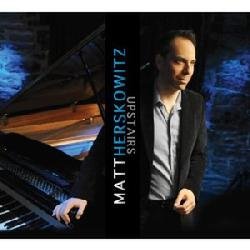 Matt Herskowitz – Upstairs
Matt Herskowitz blends jazz and classical influences on his new solo piano recording titled Upstairs. Released on Justin Time Records, the CD was recorded live at Upstairs Jazz Bar & Grill in Montreal, Quebec, Canada on November 6, 2011. Upstairs is Mr. Herskowitzs follow up to his 2010 acclaimed Jerusalem Trilogy and features songs composed by Dave Brubeck (Dziekuje), Michel Petrucciani (Cantabile), J.S. Bach (Bach A La Jazz) and George & Ira Gershwin (But Not For Me, and Ive Got Rhythm).
Herskowitz also wrote and arranged several originals for the program. The night opened with Mr. Herskowitzs interpretation of Dave Brubecks rhapsodic homage to Chopin titled Dziekuje. His performance got raves from the late pianist himself and Herskowitzs tribute to his friend is certainly one of the most inspired performances on the recording. Further inspiration came from Mr. Herskowitzs visit to Moscow as a competitor in the Tchaikovsky International Piano Competition.
Waltz In Moscow is a refined piece that emphasizes Herskowitzs classical influences and calls attention to his fluid pianism. He further accentuates his classical flair in Traumerei by Robert Schumann. His stellar arrangement makes this masterwork accessible to a new generation of pianists who may excel in the classical/jazz genre by adding it to their repertoire. The entire recording underlines Mr. Herskowitzs virtuosity and finesse as a pianist and ranks among his finest works
Reprinted with permission of…