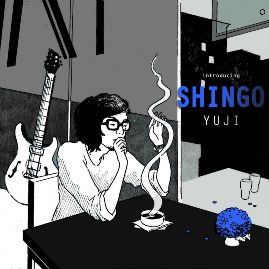 Introducing Shingo Yuji
1. Laputa by Shingo Yuji
The oldest song on this album, Laputa was composed when I was about 19. I wrote it after watching Hayao Miyazaki's animated film, "Laputa: Castle in the Sky." Many Japanese from my generation grew up on Miyazaki's stories and his influence is present to this day.
2. Shadows on the Sun by Shingo Yuji
This is a song based on "Rhythm Change," which I believe is one of the most fascinating chord changes / forms in jazz music. I reharmonized the changes with the chords used in Japanese traditional music and wrote the melody with a Japanese minor scale called "In-sen," which literally translates to shadow scale.
3. The Dry Cleaner from Des Moines by Charles Mingus
I always loved the "Shadows and Light" version of this song.
A tribute to Jaco Pastorius, Charles Mingus, Michael Brecker, Don Alias, and Joni Mitchelle.
4. A Song for the One by Shingo Yuji
A simple folkie song harmonized with an influence from some of Debussy's later works.
5. Improvisation and Variations of Itsuki Lullaby (Traditional song)
As much as I love American culture, music and all of that, I have the same devotion interest in Japanese culture. This is a folk song that has been sung in my hometown.
This is a tribute to Michio Miyagi, a master and virtuoso Japanese koto (harp) player, who wrote many variations of traditional folk songs.
6. Ame (Rain) – Interlude by Shingo Yuji
It was raining so hard in LA on the recording day….
7. Help by Lennon – McCartney
Listening to Brad Mehldau's version of "Blackbird" made me want to do an arrangement of a Beatles tune… So I did!!
8. Rashōmon by Shingo Yuji
This song was originally inspired by "Rashōmon" written by Ryunosuke Akutagawa. While I was arranging it, I had the opportunity to also see the film version by Akira Kurosawa, and there, I learned about the "Rashomon Effect," which is "the effect of the subjectivity of perception on recollection". I wanted to express this in my piece, and so I decided on using different time meters and feel for the three instrumental parts on the last theme. I got a clue for this idea from Victor Wooten's song called "2 Timers" which incorporates some really cool rhythmic modulations.