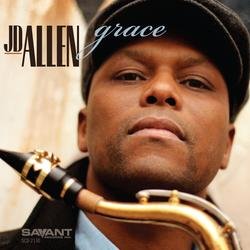 Far from new to the jazz world, JD Allen has been on the New York scene for more than a decade, lending his astute playing to a string of headline jazz names, from Betty Carter to Cindy Blackman to Lisa Hilton. On Grace, he is joined here by pianist Eldar Djangirov, bassist Dezron Douglas and drummer Jonathan Barber.
Allen's usually piano-less ensemble explores new territory with works that challenge preconceptions and expand the expressive potential of jazz composition. Grace features JD Allen doing what he does best, wailing on that saxophone of his and giving it all he's got. Check… Continue reading →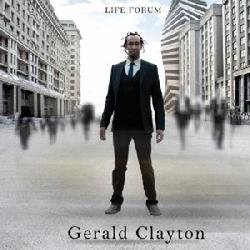 Pianist Gerald Clayton's debut recording for Concord Jazz titled Life Forum is a meaningful musical exchange that features him with trio members bassist Joe Sanders and drummer Justin Brown. Saxophonists Logan Richardson, trumpeter Ambrose Akinmusire, vocalists Gretchen Parlato, Sachal Vasandani and poet Carl Hancock Rux round out the ensemble.
The set opens with Rux's spoken word performance of Life Forum which provides the foundation for "Future Reflection." This song features Clayton's diverse pianism and Parlato/Vasandani's vocalese over the horn players and Clayton. Gerald Clayton's stellar performance justifies his triple GRAMMY nominations as a bandleader/composer but also reflects his penchant for… Continue reading →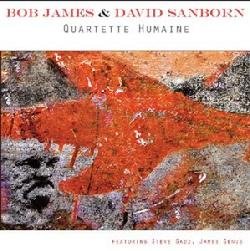 Quartette Humaine is the first creative collaboration between keyboardist-composer Bob James and alto saxophonist David Sanborn since their million-selling, Grammy-winning album, Double Vision, twenty-five years ago. With Quartette Humaine, James and Sanborn eschew the pop and R&B production values that mark large chunks of their careers and offer instead an all-acoustic quartet recital consisting of six new compositions by James, three pieces by Sanborn and a James-arranged standard.
Joined by legendary drummer Steve Gadd and bass giant James Genus, Quartette Humaine is reflective and swinging with unfailingly melodic improvising and beautiful tonalities. "We felt it's far more exciting and adventurous… Continue reading →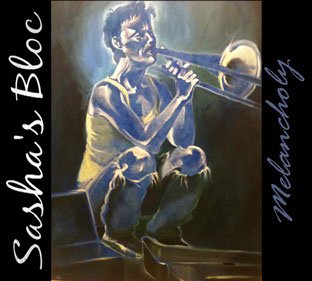 Formed in 2012 by bassist, Alexander Gershman, Sasha's Bloc is an electric mix of musicians focused on the revival of the jazz culture of the 1920's and 30's, combined with adaptation of modern jazz original compositions. All 50 live performances at the finest clubs in LA have been sold out events resurrecting the spirit and greatness of the American Jazz Classics.
Sasha's Bloc debut release Melancholy is filled with original songs written by Alexander Gershman and Carina Cooper, the  young talented vocalist, and recorded in collaboration with some of the finest and most renowned jazz musicians the world has… Continue reading →

Red is the third recording in Beata Pater's color series, her sixth solo recording. With her previous release, Blue, Beata's voice became the lead instrument, vocalizing in original compositions expressing her unique tone and character.
In Red, Beata expresses her unique jazz vocalizations with an energetic groove built by a coterie of musicians including Mark Little on keys, Aaron Germain on bass, Andre Bush on guitar, Darius Babazadeh on sax and flute, Ranzel Merritt on drums, Raul Ramirez on percussion, Carl Lockett on guitar, Celia Malheiros on guitar, Kush Khanna on table, Tom Peron on trumpet, Buca Necak on contrabass… Continue reading →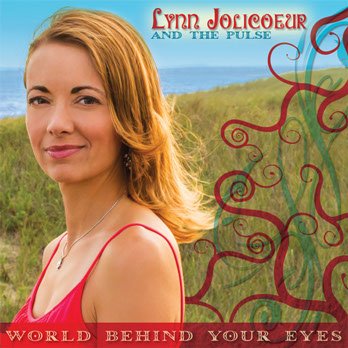 Sit back, close your eyes, and come on an emotional musical journey. World Behind Your Eyes, Lynn Jolicoeur and The Pulse's debut release, will take you soaring high on all of life's possibilities with an inspiring groove or fun waltz; teetering outside your comfort zone on a powerful jazz/rock beat; and feeling the many complexities of love through an upbeat swing or sultry ballad.
For Lynn and her band mates, music is about feeling, connecting, and being touched. For Lynn, that exploration is something like the powerful peace she feels when she's near the ocean. But sometimes it's as simple… Continue reading →

KT Tunstall's stunning new album 'Invisible Empire // Crescent Moon' is both a return to the delicate simplicity of the multi-platinum artist's early work and an evolution of her sound. IECM's country-folk tinged undercurrents grew out of KT's decision to travel to Tucson, Arizona to record with producer & alt-country leading light Howe Gelb (aka Giant Sand). KT describes the album as "full of songs from the heart," adding "I followed my path of truth and ended up in a different place."
'Invisible Empire // Crescent Moon' is set for an August 6, 2013  in the U.S. on… Continue reading →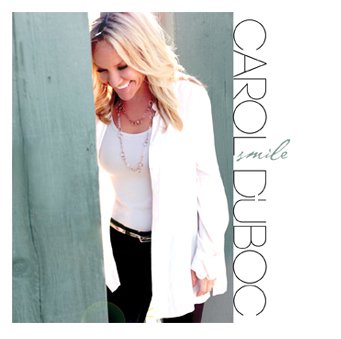 Since her emergence onto the adult contemporary/urban jazz scene in the early 2000s, Carol Duboc has generously shared her wisdom and insight about love and romance in song via both compelling original material and uniquely stylized covers of pop classics. On her multi-faceted new album Smile, the sultry singer and songwriter goes deeper emotionally than ever before.
Inspired by the steep challenges and great joys of keeping a long term relationship afloat, the 10 track collection invites fans and new listeners alike to experience compelling moments along the journey—from confusion and darkness to sparks of daylight and the assurance… Continue reading →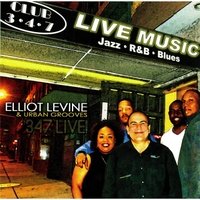 What a difference an "e" makes, especially in jazz. Remove the last one from Elliot Levine's name and you get Elliot Levin, a free jazztenor saxophone and poet from hell with whom Levine is frequently confused. Even with the "e" back in place, this talented keyboardist and composer from the Baltimore/Washington area sometimes gets calls inquiring about hiring a Hebrew cantor. Levine just directs these to the proper place, the New York cantor, choir director and composer Ellliot Levine, and then goes back about his business of getting funky.
Levine's background includes plenty of that, including an especially noteworthy stint… Continue reading →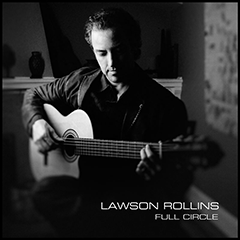 Having traversed the world in search of intriguing sounds from virtually every corner of the globe with his beloved Spanish guitar en tow, Lawson Rollins has come full circle on his aptly titled fourth solo album, "Full Circle," which will be released July 16th by his Infinita Records.
Adopting a "less can be more" philosophy on the twelve new songs that he composed allows the focus to be on Rollins' captivating melodies and dexterous fretwork that unfold over worldbeat rhythms and multicultural instrumentation. Radio listeners will be introduced to the collection Rollins produced with multi-platinum producer Dominic Camardella (Ottmar Liebert,… Continue reading →