Guitar in the Space Age will be available October 7 via OKeh Records.

Rock and Roll Hall of Fame inductee and six-time GRAMMY®-winner Dr. John is New Orleans' most prominent living musical icon. The embodiment of his hometown's freewheeling creative spirit and multiple musical traditions, he's built a visionary, idiosyncratic body of work that's deeply rooted in the Crescent City's myriad blues, R&B, jazz and rock 'n' roll traditions.
So it's fitting that Dr. John's August 19, 2014 release on Concord Records, Ske-Dat-De-Dat…The Spirit Of Satch, pays heartfelt tribute to another larger-than-life New Orleans legend: the seminal trumpeter and vocalist Louis "Satchmo" Armstrong, whose musical innovations created the template for 20th-century jazz, and… Continue reading →

Turn the Sea follows Natalie Cressman's jazz-oriented debut titled Unfolding with a unique approach to her vocal artistry and technique. The vocalist/trombonist is accompanied by her septet on 9 successful performances that also feature her adventurous skills as a trombonist. Natalie Cressman wrote all of the songs except for two tracks.
The program is like a corridor with nine doors, each opening into a separate level of her creative process that is symbolized by opening and closing with the title track. Overall, she has created a balanced, warm and admirable program of songs that are sure to delight her fans.

Blue Note Records has signed Kandace Springs and will release her self-titled debut EP on September 30 together with SRP Music Group. Springs will perform the EP's first single, "Love Got In The Way," when she makes her national television debut on "Late Show with David Letterman" on Friday, October 3.
Born and raised in Nashville, Kandace was only 17 when she captured the attention of SRP Music Group's Evan Rogers and Carl Sturken with a demo she had recorded. Springs moved to New York City several years later to begin working on new songs with Rogers and Sturken, who… Continue reading →

The next two minutes could change your music career "Winning the Oasis Grassroots Giveaway is truly the opportunity of a lifetime." This is what last year's winner, Joe Moran, had to say about the Grassroots Giveaway. And guess what? Opportunity's knocking.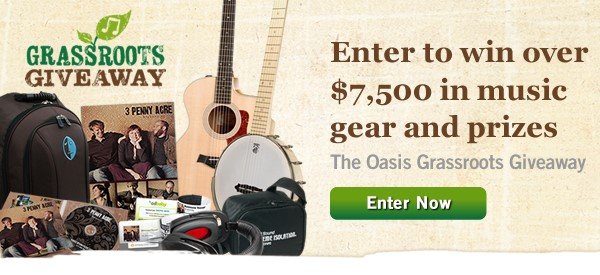 Enter the Grassroots Giveaway. It'll take you two minutes to enter and this year's grand prize package is even better than before. It includes a complete CD package (CDs, Frankford Wayne mastering, graphic design, and posters!) a guitar, a banjo, gear bags, headphones, songwriting software, and so much more! It's a prize package that will absolutely make your year.

Matthew Shipp touches on the core of that which is unquantifiable in great art in this masterwork that he has titled Root of Things. Released by Relative Pitch Records, the acclaimed pianist's expressions of form are the equal of extended classical pieces and with his limitless imagination, Shipp and his trio – Michael Bisio on bass, Whit Dickey on drums – beautifully play the invisible process of spontaneous improvisation as it occurs spontaneously from its 'roots.' Shipp's musical creativity and expressiveness is his genius and he shares his unique voice on six great songs.
Opening with the title track, the… Continue reading →

GRAMMY-nominee Stacey Kent's Brazilian inspired recording titled The Changing Lights features collaborations with Jim Tomlinson, novelist Kazuo Ishiguro and special guest Roberto Menescal. Her mesmerizing vocals are sure to enamor you as you listen to these 15 songs that Stacey has selected for her program. She sings in English, French and Portuguese on original songs and classics from the biggest names in Brazilian music.
Whether singing Tom Jobim's "One Note Samba," "How Insensitive," or Antonio Carlos Jobim's "Quiet Nights of Quiet Stars," Stacey is sure to please your musical tastes because of her sensual vocals and innovative re-interpretations. Joined by… Continue reading →

Baila! is the cd from David Longoria. This USA version contains the English language versions and also the additional songs "Loving Life" featuring guitarist Chris Standring and also "Reflection" the dynamic collaboration with iconic remixer Mickey Oliver. DAVID LONGORIA was born at a very early age.
He began singing along with his aunt Betty as she practiced her opera. It raised a few eyebrows as he was only 6 months old. He developed a love for music right away. He started playing the drums and moved to the clarinet. As a 9 year old, his fingers were not big enough… Continue reading →

Five-time Grammy Award-winning jazz pianist and singer Diana Krall will release her new studio album on Verve Records on September 9. The new release is entitled Wallflower and is a collection of songs from the late 60 s to present day that inspired Krall in her early years. Produced by 16-time Grammy® Award-winning producer David Foster, the album finds Krall breaking new ground with her interpretations of some of the greatest pop songs of all time. "It was a nice change for me to be in the vocal booth with pretty much only David's superb piano accompaniment and orchestrations,"… Continue reading →
One of the biggest stars of R&B, contemporary and straight-ahead jazz, Gerald Albright has earned his reputation as a "musician's musician." Born in Los Angeles, he began piano lessons at an early age. Albright's love of music picked up considerably when he was given a saxophone that had belonged to his piano teacher. By the time he enrolled at the University of Redlands, he was already a polished saxophonist. Albright decided to switch to bass guitar after he saw Louis Johnson in concert. A few months after graduating from college, he joined jazz pianist/R&B singer Patrice Rushen, who was in… Continue reading →