Pete Escovedo E Music (Concorde Picante – 2000)
by Paula Edelstein
The flair, the artistry, spirituality and passion of Pete Escovedo continues on the evocative E MUSIC, a ten-composition set performed by an all-star ensemble the legendary bandleader assembled especially for this CD. As a leader, Pete Escovedo has shown remarkable class and style and continues that lineage with this commanding performance that he shares with his stunningly beautiful and talented daughter Sheila Escovedo. With such brilliant musical guests as George Duke, Ray Obiedo, and Ray Vega, Escovedo's signature sound is realized on songs that epitomize the mambo, guajira, cha… Continue reading →
Bringin' a Big Sound to TownEarth Wind and Fire by S.H. Watkins, Sr.
Earth, Wind and Fire blew into town bringing their flashy presentation and big sound with them. The people that filled up the Keller Center in downtown Portland came expecting a show, and EW&F did not disappoint them on this night. In recent years, Philip Bailey has been known to have a little trouble hitting his famed high notes (I witnessed this phenomenon personally last summer). However, Philip was in rare form tonight, ranging from the low sexy ballads to the extremely high wails (think Reasons)… Continue reading →
Flirting With Twilight Kurt Elling (Blue Note – 2001) by Dick Bogle
Kurt Elling is the very best of a very rare breed — male jazz singers. It takes not a stretch of any definition of jazz to realize that this Chicago-based interpreter of music is every bit the jazz vocalist anyone ever was.
"You Don't Know What Love Is" is a prime example. He bends and holds notes much like a saxophone, but at the same time never altering the message of the lyric.Instead, he brings the lyric into bold relief.
The fabulous Laurence Hobgood is right here on… Continue reading →
Jazz Birthdays
A P R I L
01__ Harry Carney – Born 1910 01__ Duke Jordan – Born 1922 01__ John Laporta – Born 1920
02__ Larry Coryell – Born 1943 02__ Booker Little – Born 1938
03__ Eric Kloss – Born 1949 03__ Jimmy McGriff – Born 1936 03__ Harold Vick – Born 1936
04__ Michel Camilo – Born 1952 04__ Jake Hanna – Born 1931 04__ Hugh Masekela – Born 1939
05__ Evan Parker – Born 1944 05__ Stanley Turrentine – Born 1934
06__ Gene Bertoncini – Born 1937 06__ Bill Hardman – Born 1933 06__ Gerry Mulligan… Continue reading →

The Braxton Brothers Steppin' Out
"When Love Comes Around" hit the top of the New Adult Contemporary track charts in both The Gavin Report and Radio & Records last year. The single came from the original release of Steppin'Out,on the independent Kokopelli Records. The album itself topped the R&R chart for three weeks. Two new Braxton Brothers tunes, "in the Spring" and "Happy Again" (which is included on the hit Melrose Place Jazz Soundtrack collection), are featured on the updated Windham Hill Jazz version. A self-contained unit featuring the sparkling interaction of 6-string bass and saxophone, The Braxton Brothers… Continue reading →
Celebrating The Music Of Weather Report (Telarc) by Ray Redmond
Josef Zawinul and Wayne Shorter, both part of Miles Davis' jazz-rock experiments, formed Weather Report in 1970. I remember it well, since those were my musically formative years and Weather Report was one of my favorite listening choices. This highly successful fusion band remained active for 15 years and the 11 tracks on this CD cover most of the important phases in their evolution, including the chart-topping "Birdland," "Elegant People," "Badia," "Young and Fine," "Cannonball," "Pursuit of the Woman with the Feathered Hat," "Mysterious Traveller," "Harlequin," "Man in the Green… Continue reading →
Michael J. ThomasCity Beat
Harbor Breeze – 2009
City Beat is an instrumental R&B-pop collection that chronicles Thomas' Joyful discovery, eager exploration and adventurous wanderings in sprawling metropolises such as New York City, Chicago, Los Angeles and Bangkok, Thailand.
 Sophisticatedly cool and cosmopolitan, "Midtown Manhattan" opens the album on which Thomas wields a tenor, alto and soprano sax. A gorgeous melody laid over the pitter-patter of a gentle brushed drum beat, "Wedding Song (Forever Always)" poignantly pledges eternal love. Thomas is backed on the record by a taut rhythm section comprised of bassist Eric Lampley and drummer Jonathan… Continue reading →

MeShell NdegeocelloCookie: The Anthropological Mixtape
(Maverick – 2002) by Eugene Holley, Jr.
One of the most underdeveloped stories in modern music is the unacknowledged link between jazz and popular music. Now, we know the mantra: jazz influenced R&B and rock, but one could assume that that influence stopped in the 80s with the rise of rap, even though many hip-hop classics are sampled from Herbie Hancock and Donald Byrd.
The beauty of the D.C. area native bassist/singer/composer Meshell Ndegeocello, a former member of The Black Rock Coalition who released three critically-acclaimed CD's, Plantation Lullabies, Peace Beyond Passion and Bitter from… Continue reading →
Tom TeasleyGlobal Standard Time R. Redmond
Tom Teasley's third solo album is an electric, eclectic blending of world percussions and rhythms with legendary tunes and innovative approaches to playing ethnic instruments. Classic compositions by the likes of Sonny Rollins and John Coltrane have been re-arranged to give them a purely organic, modern rhythmic feel. This collection does not always stay entirely within the 'common' boundaries that a lot of jazz lovers tend to expect. The combined use of classical guitar and trombone with more esoteric instruments (like the bansuri flute) wafts you back and forth from airy ambience to… Continue reading →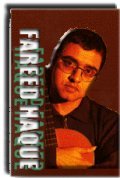 Fareed Haque
By Sidney Bechet-Mandela
It should come as no surprise that guitarist Fareed Haque hears the music of the world a bit different from other musicians. A Chilean mother and a Pakistani father raised him in music rich Chicago. As a youth, Haque crossed the globe the way many of us cross the street.
"I like all kinds of music and I've noticed that that's kind of hard for Americans to accept," Haque says. "But there are a whole lot of people of my generation and younger who have been raised listening to a lot of different kinds of… Continue reading →