Toni Redd Straight From The Heart (Toni Redd – 2006) by Carmen Miller
Toni is an old fashioned 'class act' who covers a wide range of musical styles with style and conviction. Toni Redd combines traditional jazz, contemporary smooth jazz, classic soul, and Urban rhythm & blues to create her own powerful presence. I particularly liked the opener "My Name is Toni Redd" and "Open Your Love", as well as the her smooth and sensual rendition of "footsteps in the dark". Another good track is the bouncy "Talk About It".
Ms. Redd's take on the classic "Betcha By Golly Wow"… Continue reading →
Grand Dame Teena MarieKicks off Taste of Chicago in grand style(Chicago – June 2004) by D. Kevin McNeir Back in the late 70's a true anomaly burst on the R&B scene—a white woman who brought the complete package: singer, songwriter, producer, arranger, multi-instrumentalist and performer. Her name was Mary Christine Brockert but she chose to don the stage name Teena Marie.
Now some 30 years later, and with platinum- and gold-selling albums to her credit, she's returned with a new CD, La Dona. Marie recently kicked off Chicago's annual mid-summer extravaganza, Taste of Chicago. And ask anyone who was… Continue reading →
Trilok GurtuThe Beat of Love(Blue Thumb – 2001) by John Barrett
Recorded on four continents (with at least that many styles), this album puts the Indian vocal tradition in the context of modern dance music. "Maya" crackles with tablas … and a buzzing synthesizer played by Wally Badarou. Roop Kumar handles the tense, pop-styled vocals; Trilok slaps the cymbals and the mood gets even stronger. The fast sitar near the end is a treat – this tune ROCKS, which you can't say about most Indian music.
"A Friend" reminds me of Japanese pop music, with chirpy vocals and noisy… Continue reading →
The Maestro Is INN A panel discussion of The Music Inn and the state of Jazz in New England Hosted by the Jazz Journalists Association (JJA) and the New England Jazz Alliance (NEJA) At the Tanglewood Jazz Festival (September 4, 2004) by Matthew Robinson
Having kicked off the fourth annual Tanglewood Jazz Festival with a performance by Jimmy Slyde and tap phenom Savion Glover and a live taping of Marian McPartland's "Piano Jazz" with the equally impressive young pianist Taylor Eigsti, a number of the late Summer Jazz fans retired to Seranak- the fabled home of Boston Symphony Orchestra Conductor… Continue reading →

The Tryptych Jeri Brown(Justin Time – 2001) by John Barrett
Most "concept albums" in jazz stick with simple themes, like songs about the weather, or songs by one artist. This one has a true concept, and a good one: it's presented as a three-act musical, complete with stage directions, performed by Jeri Brown and a piano trio. (I don't know if it's been produced as a play … but I know I'd see it.)
Jeri begins in her lonely room, singing to her "Image in the Mirror". "Image in the mirror, listen please/ You're the only one who understands/ You… Continue reading →

Smokey Robinson Timeless Love(New Door Records – 2006) by Tammy La Gorce
Add Smokey Robinson to the list of sophisticated crooners sidestepping the race to rack up songwriter credits in favor of revisiting standards. Don't add him to the list of well-loved pop statesmen willing to let a team of backing musicians do the heavy lifting, though. With Timeless Love, Smokey situates himself in a candle-lit lounge of the mind: these may be other artists' songs, but he sketches in the details with the very stuff of his soul. Which, as anybody who's ever sung along to "The Tracks… Continue reading →
Lutalo (Sweet Lu) OlutosinTribute to Greatness
2010 – SESAC
Lutalo Olutosin [pronounced O-la-TO-sin] was born in East Chicago, Indiana. Raised during early life in Gary, Indiana, Lutalo (Lu) moved to the South East in the mid 1970's. Influenced heavily by a family filled with Gospel singers and musicians, he followed suit until hearing an Al Jarreau song on the radio. Everything changed, especially his approach to listening, judging, and singing the music that inspired him.
During a career in the US Military that was sprinkled with performances in Jazz, as well as R&B bands and musical stage productions, across… Continue reading →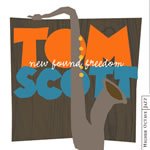 New Found FreedomTom Scott
(Higher Octave – 2002) by S. H. Watkins, Sr.
Never count out the old guys. Tom Scott was making grooving jazz before there was smooth jazz, and he's back with a strong showing in New Found Freedom. Joined by guitarists Craig Chaquiso and Paul Jackson Jr., Scott starts out Feelin' It right away, an uptempo groove for sure. Ann Nesby adds some sweet vocals to a track she also co-wrote You Are My Everything, a potential crossover track that brings in Billy Preston on B3 and Paulinho Da Costa on percussions. (Don't… Continue reading →
Chillin' with Norman Brown by Mark Ruffin
When the smooth jazz super group, BWB, tour this spring, guitarist Norman Brown will send more than a few females readers of swooning. In addition to highlighting tunes from the group's debut, Groovin' the guitarist performs tracks from his Grammy-award winning album, Just Chillin. The nearly two hour show is highly entertaining, and in addition to featuring trumpeter Rick Braun and saxophonist Kirk Whalum, bassist Michael Manson anchors the group and is given a chance to play a tune from his debut album, The Bottom Line.
But many women will… Continue reading →

Ilhan Mimaroglu Outstanding Warrants(Southport – 2001)   by John Barrett
Ilhan Mimaroglu was an electronics pioneer, recording his first efforts in the late 'Fifties and working many years at the Columbia-Princeton Music Center, the first school devoted to electronic music. (He's also the nephew of Atlantic Records' Ahmet Ertegun, and for a decade ran Finnadar Records, Atlantic's classical-music label.) His works are formal at the center, using dissonance as an instrument and not a random flavor. "Fanfare" starts with a low rumble (a sampled piano?) joined to a noisy synthesizer (the "horns" of the fanfare.) A placid interlude is cut… Continue reading →