A journey to West Africa Dancing with the Diaspora by Struan Douglas
Introduction to the concept and series:
As Baaba Maal says, "I want people to see Africa in new eyes, to have a very positive interest of Africa, to know that it is not dead, it is always alive and people can give confidence to Africa. We have a lot of strong people who really want to do something, who really want to participate in the universal development, but deeply to help Africa to give the place that Africa needs to have."
And that's what Dancing with the Diaspora… Continue reading →

Albert's Lullaby Hal Russell (Southport – 2000) by John Barrett
Hal Russell dates from the first era of Chicago avant-garde, inspired many from the second wave (Ken Vandemark, etc.) and he always kept exploring, right up to his death. In 1991 his bassist booked a studio, and they ran wild: bass and drums crash hard, while Hal moves all directions at once. "Edge of Night" has a tenor that goes berserk; he keeps to the melody (it's a soap opera theme) for maybe ten seconds. Hal twiddles fast, Michael Staron fiddles with fury; this sounds a lot like Charles Gayle.… Continue reading →
All Star Smooth Jazz Cruise 2005Tons of Fun and Jammin' Sessions by S.H. Watkins, Sr. and Carmen Miller
The all star smooth jazz cruise got underway with a bang, then another and another! After much travel and consternation the cruise got underway and the jazz is going on!
Day 1's concert featured Chicago native own Alan Hewitt who put on a groovin show, highlighted by Rick Braun joining him on stage for a couple of tunes. Following Alan was another Chicago boy and one of my favorite guitarists, Nick Colionne who put on a show that brought down the house.… Continue reading →
Louis ArmstrongAn American Icon
One of the greatest jazz musician who ever lived, Louis Armstrong was a worldwide ambassador of Jazz.
Hip-O Records has released a beautifully packaged deluxe 3-CD box set with accompanying 50-page booklet that offers a comprehensive survey of "Satchmo's" finest recordings of the post-World War II era, 1946 to 1968. During this period, Louis Armstrong's most successful, he scored "Hello Dolly!," "Mack The Knife," and, of course, "What A Wonderful World" and appeared on the covers of the national weekly magazines, headlined concerts around the world, as well as being a familiar face in film and… Continue reading →

A Moment With Arturo Sandoval by Mark Ruffin
On the early morning that JazzUSA bothered Arturo Sandoval for this month's interview, the man was hard at work. From the moment his wife picked up the phone at their Miami home, the receiver was filled with lush symphonic music with Arturo's trumpet piercing the top range. When she got his attention, the trumpet stopped, the strings faded out and the 50 year-old trumpeter came to the phone.
JazzUSA: How are you this morning?
AS: I'm doing fine. I'm working already
JazzUSA: Working already? What are you doing this early in the… Continue reading →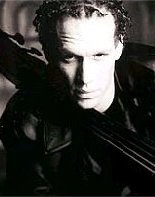 Colors: Hearing is Believing A Talk with Avishai Cohen by Paula Edelstein
The aesthetic association between sound and color was first rationalized by the philosopher John Locke in An Essay Concerning Human Understanding sometime in the 1600s and the color hearing of Avishai Cohen on his latest Stretch Records release asserts its authenticity. He unites our individualized and special senses in a myriad of listening opportunities on COLORS, his third release for Chick Corea's label. Avishai Cohen knows how his bass playing fits into today's musical world and COLORS offers you all the musical styles inherited from his heritage and… Continue reading →

A Conversation WithBrian Bladeby Fred Jung
From high aloft a Los Angeles hotel, drummer Brian Blade and I had an opportunity to speak about his youth, his music, his interests, and his future. This is a no-holds-barred, unique look into one of the most exciting drummers in jazz today.
FJ: Growing up in Shreveport, Louisiana, you must have been exposed to an eclectic variety of musical styles. How did such diversity influence you? And what were some of the different forms of music you encountered?
BB: Beginning at the beginning, I was brought up in church, a Baptist… Continue reading →
Berks Jazz Fest The Best Jazz fest in the world – March 17-26, 2006 by Val Vaccaro
This is one of the best smooth jazz festivals in the world!  If you've been to Berks Jazz Fest before (as have over 40,000 fellow fans), you know what I mean, and if you haven't yet experienced the Fest, you'll be in store for a great time!  The well-run fest is filled with great music, wonderful venues, and a friendly, inviting atmosphere of terrific people that manage the events; it's also fun to check out the selection of creative merchandise (e.g.,… Continue reading →
Roy Hargrove & The RH FactorStrength EP(Verve – 2004) On May 20, 2003, premiere jazz trumpeter Roy Hargrove and his collective the RH Factor released the groundbreaking neo-soul/jazz fusion recording Hard Groove. Featuring an all-star roster of neo-soulsters (Erykah Badu, D'Angelo, Stephanie McKay), boho rappers (Q-Tip, Common), jazzbos (Marc Cary), jamband icon Karl Denson and Philly's famed Soulaquarians posse (James Poyser, Pino Palladino), the critically-acclaimed 14-track album was not only embraced by Hargrove's core fan base, it garnered the artist props with the underground club massive from Brooklyn to Berlin.
16 months, one SRO North America to UK to… Continue reading →

Swingin' Mark Elf (Jen Bay Jazz – 2001) by John Barrett
If you listen to jazz radio, you've heard Mark Elf; his last five albums have made #1 in the Gavin Report. But you haven't heard him like this: his tone can be tart and tightly wound, but here it's relaxed … and quite lyrical. "I Won't Dance" plays the theme high, then repeats it an octave lower – all while Robert Hurst pounds the big bass. On the bridge, Mark quotes Coltrane's "Like Sonny"; his solos fly, in the mode of Tal Farlow. "Indubitably" flows like soft rain: Winard… Continue reading →