Blue Note Records has signed Kandace Springs and will release her self-titled debut EP on September 30 together with SRP Music Group. Springs will perform the EP's first single, "Love Got In The Way," when she makes her national television debut on "Late Show with David Letterman" on Friday, October 3.
Born and raised in Nashville, Kandace was only 17 when she captured the attention of SRP Music Group's Evan Rogers and Carl Sturken with a demo she had recorded. Springs moved to New York City several years later to begin working on new songs with Rogers and Sturken, who… Continue reading →

The next two minutes could change your music career "Winning the Oasis Grassroots Giveaway is truly the opportunity of a lifetime." This is what last year's winner, Joe Moran, had to say about the Grassroots Giveaway. And guess what? Opportunity's knocking.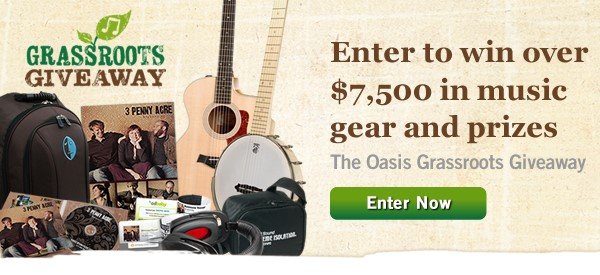 Enter the Grassroots Giveaway. It'll take you two minutes to enter and this year's grand prize package is even better than before. It includes a complete CD package (CDs, Frankford Wayne mastering, graphic design, and posters!) a guitar, a banjo, gear bags, headphones, songwriting software, and so much more! It's a prize package that will absolutely make your year.

November will see the worldwide release of Blue Note: Uncompromising Expression, the first official illustrated history of Blue Note Records, authored by Richard Havers and including forewords by Wayne Shorter, Robert Glasper, and Blue Note President Don Was. Commemorating the 75th anniversary of Blue Note Records, the beautiful 400-page hardcover book celebrates over seven decades of extraordinary music, and Blue Note's ongoing commitment to "Uncompromising Expression," the tenet set forth by founder Alfred Lion, a German immigrant who came to America to pursue his dreams and his love of music.
Tracing the evolution of jazz from the boogie woogie and… Continue reading →

Matthew Shipp touches on the core of that which is unquantifiable in great art in this masterwork that he has titled Root of Things. Released by Relative Pitch Records, the acclaimed pianist's expressions of form are the equal of extended classical pieces and with his limitless imagination, Shipp and his trio – Michael Bisio on bass, Whit Dickey on drums – beautifully play the invisible process of spontaneous improvisation as it occurs spontaneously from its 'roots.' Shipp's musical creativity and expressiveness is his genius and he shares his unique voice on six great songs.
Opening with the title track, the… Continue reading →

Pianist and composer Joe Sample, a founding member of the genre-crossing Jazz Crusaders who helped pioneer the electronic jazz-funk fusion style, has died. He was 75.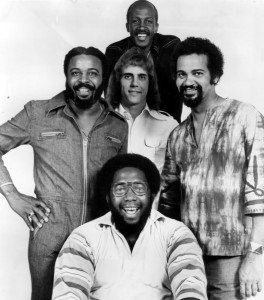 Sample died of complications due to lung cancer Friday evening at the MD Anderson Cancer Center in Houston, his manager, Patrick Rains, told The Associated Press on Saturday.
Sample began playing the piano when he was five years old. He was a student of the organist and pianist Curtis Mayo.
In high school in the 1950s, Sample teamed up with two friends, saxophonist Wilton Felder and drummer "Stix" Hooper, to form a group called… Continue reading →

GRAMMY-nominee Stacey Kent's Brazilian inspired recording titled The Changing Lights features collaborations with Jim Tomlinson, novelist Kazuo Ishiguro and special guest Roberto Menescal. Her mesmerizing vocals are sure to enamor you as you listen to these 15 songs that Stacey has selected for her program. She sings in English, French and Portuguese on original songs and classics from the biggest names in Brazilian music.
Whether singing Tom Jobim's "One Note Samba," "How Insensitive," or Antonio Carlos Jobim's "Quiet Nights of Quiet Stars," Stacey is sure to please your musical tastes because of her sensual vocals and innovative re-interpretations. Joined by… Continue reading →

Five-time Grammy Award-winning jazz pianist and singer Diana Krall will release her new studio album on Verve Records on September 9. The new release is entitled Wallflower and is a collection of songs from the late 60 s to present day that inspired Krall in her early years. Produced by 16-time Grammy® Award-winning producer David Foster, the album finds Krall breaking new ground with her interpretations of some of the greatest pop songs of all time. "It was a nice change for me to be in the vocal booth with pretty much only David's superb piano accompaniment and orchestrations,"… Continue reading →
One of the biggest stars of R&B, contemporary and straight-ahead jazz, Gerald Albright has earned his reputation as a "musician's musician." Born in Los Angeles, he began piano lessons at an early age. Albright's love of music picked up considerably when he was given a saxophone that had belonged to his piano teacher. By the time he enrolled at the University of Redlands, he was already a polished saxophonist. Albright decided to switch to bass guitar after he saw Louis Johnson in concert. A few months after graduating from college, he joined jazz pianist/R&B singer Patrice Rushen, who was in… Continue reading →
Omar Hakim's list of credits spans the musical spectrum from Rock to Jazz to Pop to Electronica and with his latest release We Are One, his listeners are treated to a wonderful array of styles and genres on one recording. The highly acclaimed drummer leads a stellar ensemble featuring Chieli Minucci, Gregoire Maret, Scott Tibbs, Jerry Brooks, Rachel Z and several others on 10 original compositions that he either wrote or co-wrote keyboardist Scott Tibbs or bassist Jerry Brooks. In addition to his drumming, Omar Hakim adds to his multi-instrumentalist skills, performing on piano, keyboards, percussion, guitar, bass and singing… Continue reading →

It's always difficult when you have set the bar so high as Cindy did with her groundbreaking and highly heralded second recording 'Unscripted', voted 'Critic's Choice 2011′ by Jazziz Magazine, and one that spawned back to back #1 Billboard singles, to not only follow but to continue to stretch higher. With the release of BLISS, Bradley's third she again finds Grammy award winning producer Michael Broening at the rudder steering the ship and together again they not only grab hold of the bar they set, but leap over it, carried forward by the current of her wave of popularity.
Bliss… Continue reading →